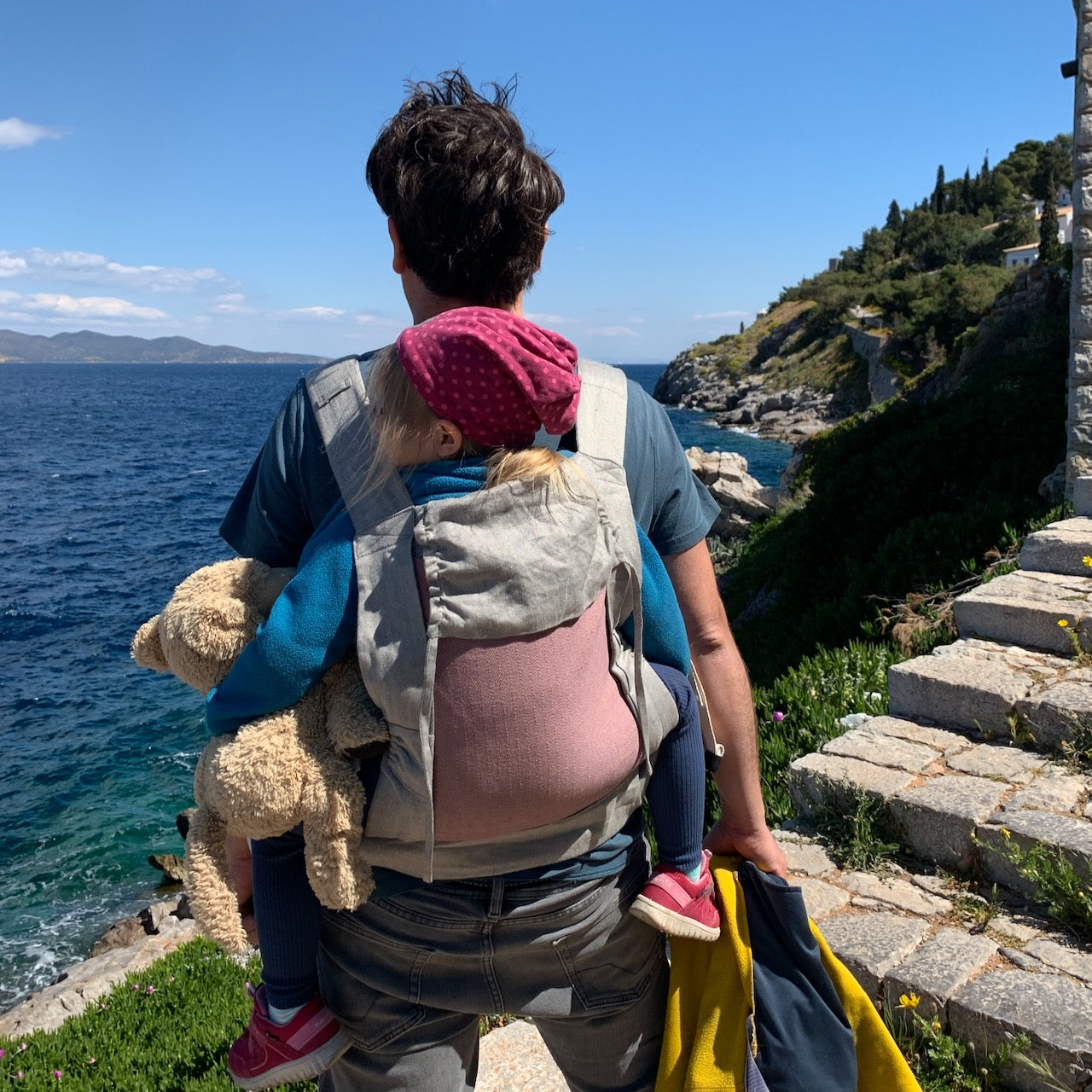 Traveling with children in times of climate and inflation crises
Our approach to responsible travel with children
When the Christmas stress is over and all family members have arrived safely in the new year, the desire to travel stirs again in many. Unimpressed by the mood of crisis, the longing for new places awakens. Many families want to travel with the children again and they start planning their next vacation.
Good luck for airlines who can expect at least pre-pandemic levels in 2023, bad luck for our planet? Somehow this thought gives rise to an inner feeling of turmoil. As parents, we want to act responsibly with regard to the future of our children and leave them a world worth living in. We also want to show our children the world and other ways of life. Many parents ask themselves: How does it all work together? Can I still travel with a baby or toddler and where to? Of course, we also gave a lot of thought to this. Responsible use of our living space is very important to us, but that doesn't have to mean doing without everything completely.
Avoid short-haul flights
In order to protect the climate and conserve resources, the following applies: the closer, the better. Every kilometer avoided is a climate-friendly kilometer. Short-haul flights in particular should be avoided. Instead, these routes can be easily covered by train. This is particularly practical and stress-free with the baby carrier, as you don't have to think about where there is space for the stroller on the train and how best to get it in.
Traveling with children opens hearts and doors
On our first trips as parents, we learned early on that children are often received very differently. We have always loved to travel, are open to other cultures and have lived in other countries for several months. Yet we always remained strangers. Traveling with children opens up a completely different quality here. Children are door and heart openers.
When you have children, you have something in common with the locals that transcends national borders: parenthood. In addition, children in other cultures often have a completely different status than in this country. They are met without reservations and welcomed with open hearts. It is much easier to create a meeting place at eye level through interaction with the children - also for the adults. Sometimes the locals even invite you to their own home for tea or coffee.
Long-distance travel for tolerance and intercultural competence
The main arguments for long-distance travel are the intercultural exchange and the promotion of mutual understanding. In addition, children learn a wide variety of things in areas such as geography, biology, religion or pick up language skills.
Of course, this type of travel requires that you take or can take your time. Here less is more again. It is better to go on long-distance trips less often and have a few weeks to do so than to jump from one sight to the next in a consumer frenzy.
Many paradisiacal places are lost year after year due to this consuming, fast tourism. The hunt for the last, natural paradises contributes to their destruction. Coral reefs around Ko Phi Phi Leh are massively threatened by over-tourism. A holiday in a "sustainable" holiday resort such as in Tulum (Mexico) or Zanzibar (Tanzania) has nothing to do with treating our planet responsibly if forest clearing of tropical primeval forests has previously been carried out for the resort.
A responsible way of traveling with children does not mean fleeing everyday life for two weeks a year and consuming foreign places and adventures. Getting to know other places requires observation and curiosity. Immersing yourself in life in other countries in order to exchange ideas with the people there does not happen at the push of a button. It takes time. Like children, they learn best when they have time for their daily journeys of discovery, time to process them and to get to the bottom of the questions that arise from them.
(Micro) adventures await nearby too
And between trips? How do we create variety and take a break from everyday life without having to travel far? Many an adventure awaits on the doorstep. So-called micro-adventures offer wonderful experiences and can be easily implemented in between. This doesn't have to be a planning-intensive adventure like a scavenger hunt. A short hike that you have never done before or a route that you would otherwise drive is often enough to walk, visit a local museum or explore your own city.
It's best to pack the NIRMI right away and off you go. 😉
If you've never been on the train with your kids for a long time: this blog has some really nice tips for traveling by train with kids - even for the little ones. 😉
TIP: A good time to plan a longer long-distance trip is parental leave. There is a month in which both parents can go on parental leave together. This transitional period is well suited for a longer stay abroad together.
TOP TIP: Traveling with children made easy - baby carriers instead of strollers:

Of course, we always have the NIRMI carrier with us on the go. For us, the baby carrier has clear advantages over a stroller:

The direct physical contact has a calming effect on the little ones in the sometimes stressful hustle and bustle of travel.

It is stress-free for us parents when we travel by public transport. We can just get in and don't have to think about where to put the stroller and how to get it there.

With the NIRMI, we are also very flexible in countries where accessibility is not so well received. Holey sidewalks, steps, unpaved roads - all no problem.

We always have our hands free for bags or the sibling.